Dr. Mark Kowalczuk
Dr. Mark loves that every day brings a different set of challenges. His goal is to create greatness for everyone through chiropractic adjustments.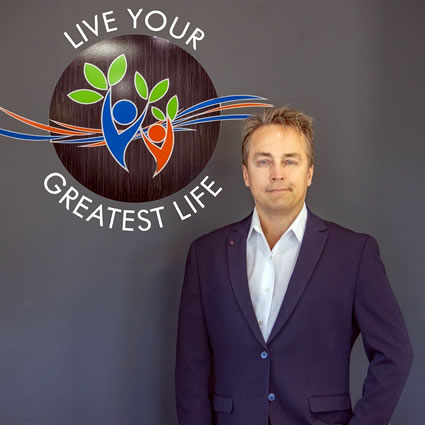 The Practice Today
Dr. Mark realizes that chiropractic is more than treatment, it's a lifestyle choice. Getting adjusted reconnects you to the life you want to live.
Pain is a good thing; it tells you that something is wrong. The goal after getting rid of the pain should not be to return to the same life, it should be to want something more. Chiropractic is all about making a difference in your life.
CHIROPRACTIC CARE

His Chiropractic Journey
At the age of 10, Dr. Mark had a bad fall off the monkey bars. His brother was already under chiropractic care, so he went there for treatment. He got immediate pain relief but  stopped going once he felt better.
At 13, he hurt his back lifting a picnic table. Again, he experienced immediate relief with chiropractic. Later that year, a hockey incident initially left him fearing he was paralyzed. The instant relief from the adjustment was an 'unbelievable experience'.
Dr. Mark was also involved in two car accidents that could have been fatal. "It's not only a miracle I survived, but my healing through chiropractic care literally changed my life forever.  After all of these miracles that I experienced, I had to pass that along to someone else in need," he shares.
Chiropractic Education For a Lifetime
Dr. Mark earned his Doctor of Chiropractic at Life University in Atlanta, GA in 1997, and has been practicing chiropractic for over 24 years!
Activator Technique certified, he has attended numerous seminars to learn more. Already Webster Technique certified, Dr. Mark is finishing his studies for CACCP certification from ICPA.
Outside the Practice
Dr. Mark is never totally separated from the chiropractic world.  "For me, chiropractic is not just a career, it's a life choice, a philosophy, an approach and a strategy to life and well-being," is his belief.
He loves spending time with his wife of 22 years, Joanna, and his two great kids, Daniel, an awesome soccer player, and his daughter Caterina, who is very artistic and a dancer. He enjoys being in nature, going to the lake, and playing ice hockey. The family has traveled a lot over the years and look forward to doing more.
Quality Care
Dr. Mark would love to show you what chiropractic can do for you and your family. Contact us to book your first appointment and get the outcome you want and deserve.
---
Dr. Mark Kowalczuk | (204) 254-5555