Family Chiropractic Care at Great Life Chiropractic & Wellcare Centre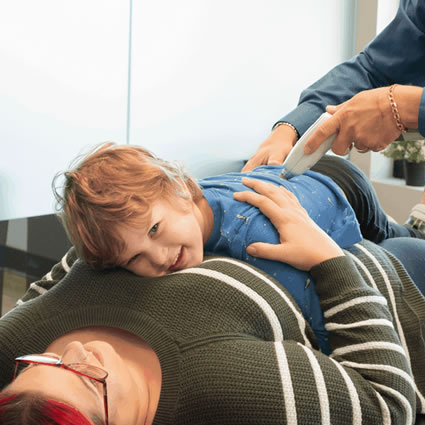 Care for Everyone
We believe… in caring for your family as it grows.
At Great Life Chiropractic & Wellcare Centre, we care for all ages and types of patients. Your whole family can benefit from quality chiropractic care. When the family seeks health together, they stay healthy for a lifetime.
NEW PATIENTS

Life Stages of Chiropractic Care
Dr. Mark enjoys working with patients of all ages and all types. He loves working with the seniors who live in the area. Watching them walk and move better and have a better quality of life is extremely rewarding.
When Dr. Mark's own newborn daughter had breathing problems, he was able to adjust her and correct the issue immediately. Helping young children grow, develop, and thrive is just one reason he loves his job.
Your children's development is dependent on a nervous system that's firing on all cylinders. Adjustments correct imbalances in the spine and nervous system. We're not just adjusting the spine, there's a ripple effect on brain function.
For the brain to develop properly, and to activate at the right time and stage of development, your child should be adjusted regularly. Chiropractors are the only ones skilled enough to identify where there's a need for an adjustment and that can provide correction.
Kids grow in environments where they're constantly stimulated to a degree beyond what they're able to handle or adapt to. Chiropractic hits the reset button for their spine and nervous system, so they can reconnect with the world around them.
As youth advance into sports, injuries can become prevalent. Chiropractic care can reduce pain and help their bodies to heal. Regular adjustments promote more strength and stability which can help prevent further injury.
When several people live in the same environment, they can all experience a similar level of stimulation. When a family member is not in care, they can become a missing piece of the puzzle that keeps the family unit whole. Caring for all family members allows everyone to live life to its fullest, individually and together.
Older family members have a unique set of issues. Strength may be reduced, mobility can be challenging and physical limitations may increase. Fall prevention is arguably the most important goal with seniors.
Adjustments stabilize the body and help with muscle function and coordination. This makes walking easier, spatial awareness increases and confidence in their ability to complete tasks grows. Knowing our elders are able to stay on their feet is a relief to them and us.
Families Matter to Us
Making sure your family is living their best life with optimal health and wellness is our goal. Contact us for an appointment to get back on track.
CONTACT US

---
Family Chiropractic Care St. Vital MB | (204) 254-5555